Easy Cooking! Awesome Flavours!
Nimkish Spices – Instant cooking with less effort

Nimkish Spices brings forth a world of spices to make your cooking easy and fun. The perfect blend of spices for a great meal.

Add spice, colour and flavour to your dishes

Our recipe is one of the easiest to follow, giving you delicious and flavorful results every time. The simple three-step process allows for fast, hassle-free cooking with minimal effort.

We promise you'll love it!

Lay the foundation for a delicious meal with our bold and flavorful range of spices that make quick work of any recipe.
Explore a World of Spices!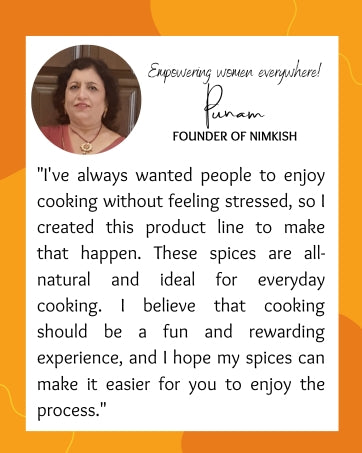 Our Journey
Discover the Culinary Excellence of Nimkish: From Our Family to Yours
Nimkish started as a dream shared between two sisters. Their love of cooking and desire to share it with the rest of the world led to its incorporation. They are now proud to share delicious meals from their family to yours!
Learn More